The American Society of Plastic Surgeons (ASPS) recently released a summary of their report on the plastic surgery trends of 2018. I'm always interested in these overall trends and how they relate to my own clinical experience in plastic surgery, and I thought my readers might want to know my thoughts on the top 5 plastic surgery procedures of 2018: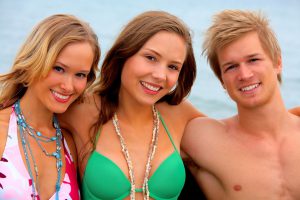 5) – Tummy Tuck (Abdominoplasty) — 130,081 Procedures — 0% Increase from 2017
Although there was no significant increase in the number of tummy tucks performed in 2018 from the prior year, this procedure remains one of the most popular surgeries in the United States. After getting into better shape through diet & exercise, many people find themselves with a persistent "stomach pooch" they can't seem to get rid of. This is especially common after pregnancy, which often damages abdominal muscles in addition to making one's weight fluctuate wildly over a short period. These issues can be remedied through a tummy tuck, which tightens the skin and underlying muscles to achieve a flatter stomach.
4) – Eyelid Surgery (Blepharoplasty) — 206,529 Procedures — 1% Decrease from 2017
The popularity of eyelid surgery saw a very slight decrease in 2018, but I don't foresee a day when this highly effective surgery's popularity will drop significantly. Unless science can cure aging, people will always want to lessen the aesthetic effects of getting older. Luckily, eyelid surgery can make you look younger and more vibrant by removing loose, sagging skin and easing the appearance of bags under the eyes.
3) – Cosmetic Nose Surgery (Rhinoplasty) — 213,780 Procedures — 2% Decrease from 2017
People love rhinoplasty not only for its ability to make the centerpiece of the face more attractive, but also to improve nasal function. This ever-popular procedure can adjust the size of the nose, make it more symmetrical, and correct many other cosmetic and functional imperfections. Cosmetic nose surgery is a delicate procedure that requires a high degree of skill, so make sure you choose an experienced, qualified, and proven plastic surgeon for your rhinoplasty.
2) – Surgical Fat Reduction (Liposuction) — 258,558 Procedures — 5% Increase from 2017
With the biggest increase of last year, liposuction is gaining popularity in the United States. Often, even with a mostly successful diet & exercise program, certain parts of the body retain stubborn pockets of fat. Liposuction can take care of these pockets virtually anywhere on the body, and it's frequently used to complement or enhance other plastic surgery procedures (like tummy tucks and arm lifts). Therefore, it's no surprise that more and more people are continuing to opt for this surgery.
It's important to note that liposuction should be thought of as a complement to, and not a replacement for, healthy living. I advise my patients to get as close to their ideal weight as they can through healthy lifestyle changes before undergoing liposuction.
1) – Breast Augmentation (Augmentation Mammoplasty) — 313,735 Procedures — 4% Increase from 2017
Breast augmentation is consistently the most commonly performed plastic surgery procedure in the United States, and it continues to become more popular each year. The materials & technology used in implants, the variety of techniques available, and the overall effectiveness of breast augmentation (as well as breast surgery of all kinds) are always advancing, and people are always becoming aware of these continual improvements.
Overall, the new ASPS statistics reflect my experience with patients in 2018. As aesthetic preferences change over time, new trends will no-doubt emerge, but people will always want to make improvements to their looks. If you'd like to learn about the procedures I perform, contact me, Dr. Jim Namnoum, to schedule a consultation. Don't forget to connect with me on Facebook, Twitter, and Instagram, and come back to the blog soon for more advice and information on looking your best.