Dr. James D. Namnoum | Board Certified Plastic and Reconstructive Surgeon
Breast Procedures
Breast Augmentation
Atlanta Breast Augmentation Specialist and Board-Certified Plastic Surgeon, Dr. James Namnoum understands that breast augmentation is a deeply personal choice. There are many reasons women seek breast augmentation, such as correcting the physical toll taken during pregnancy or significant weight fluctuations, a desire to improve overall confidence, and even genetic factors such as asymmetrical or tubular breasts. An expert in cosmetic plastic surgery procedures for the breasts, including breast reconstruction following mastectomy, Dr. Namnoum has spent years honing his surgical skill and artistic vision to create completely natural-looking breast augmentation results that are custom tailored to fit each patient's aesthetic goals and body type.
Breast Augmentation Specialist in Atlanta
Breast enhancement with augmentation mammoplasty is a surgical procedure that utilizes breast implants to enhance the breast volume, shape, and projection of the breast. This typically involves the use of an implant that has an outer shell of silicone and inner fill of either silicone or saline. For women who have experienced an excessive amount of sagging skin following weight change or pregnancy, a breast lift with augmentation may be required.
Benefits of Breast Augmentation
There are many benefits of undergoing breast augmentation surgery. Breast augmentation patients report the following after having breast augmentation surgery:
Breast Augmentation Improves Self-Confidence
For women who feel that their natural breast tissue is lacking in shape or volume, breast augmentation improves body image and increases confidence in or out of clothes.
Breast Augmentation Enhances Size and Shape of Breasts
Breast augmentation surgery with implants enhances the size and projection of the breasts. Natural breast size is determined by a variety of factors including genetics, body shape, weight and lifestyle. Some women have never been satisfied with the natural size and shape of their breasts, while others have concerns with their breast size or shape post-pregnancy or after weight fluctuations. Breast implants not only increase breast size, they can also improve breast shape and fullness.
Breast Augmentation Restores Lost Volume
Breast implants can also restore fullness to breasts that have lost volume and projection. Many women experience a loss of volume in their breasts as they age, or due to childbirth or significant weight loss. This can cause the breast tissue to sag, leading to a loss of confidence and the breast area to appear older than they actually are.
Breast Augmentation Evens Out Asymmetrical Breasts
Many women are frustrated with asymmetrical breasts that are uneven in shape or size. Breast augmentation gives women struggling with concerns about breast asymmetry a chance for evenly sized and shaped breasts. Dr. Namnoum will discuss each patient's concerns, and create a treatment plan that corrects it. Some women only need an implant in one of their breasts, while others require two different sized implants, to create a balanced look.
Feel More Youthful with Breast Augmentation
Deflated or sagging breasts can create a prematurely aged look, and breast augmentation surgery with implants can restore full, youthful contours to the breasts.
Your Breast Augmentation Options
During your consultation, Dr. James Namnoum will evaluate your natural breast shape as well as your unique body proportions and discuss the best breast implant surgery options to achieve your aesthetic goals.
Breast implants come in a range of sizes and styles, but can generally be grouped into two classifications: round and shaped. Some implants are stiffer due to their fill or the composition of the silicone gel contained within the outer shell. Dr. Namnoum makes use of 3-dimensional imaging to compare implants of different shapes, volumes, and projections for a given patient. Dr. Namnoum will help educate you to make an informed decision regarding the type of implant to be used, the incision, and the implant placement (above or below the chest muscles). Dr. Namnoum generally utilizes a dual plane technique for breast augmentation, in which the breast implant is placed subpectoral—under the pectoral muscle.1 Dr. Namnoum prefers to employ an inframammary incision, which is placed under the natural breast fold, as this type of incision has been shown to reduce the appearance of scars and risk of complications after surgery.2
While Dr. Namnoun typically employs the inframammary incision, there are four options for breast implant incisions:
Inframammary: Underneath the breast, right above the crease (this is the most common and most recommended incision type for breast augmentation)
Periareolar: The lower half of the areola
Transaxillary: Where the underarm meets the chest area (armpit)
Transumbilical: In the belly button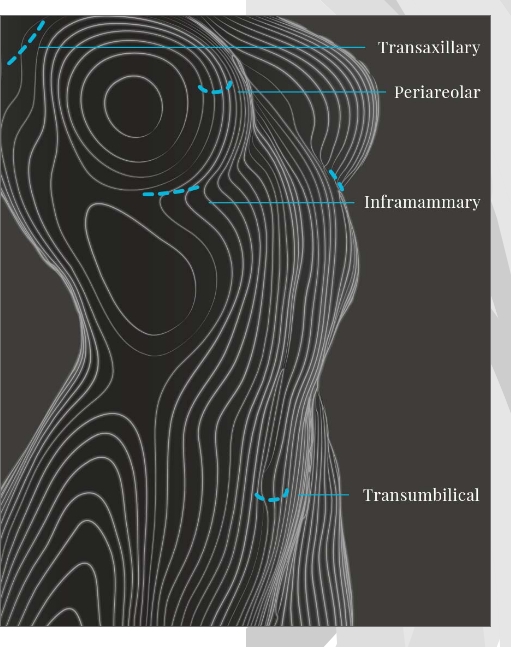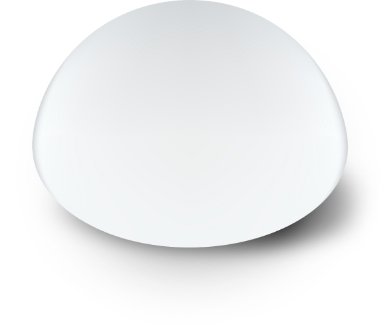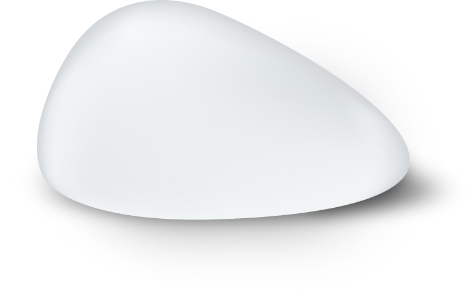 Breast Implant Sizes & Shapes
Round breast implants are high profile, offering a prominent projection and a fuller, rounder appearance. This type of breast implant is what most people associate with the typical look of a surgically augmented breast.
Teardrop breast implants are anatomically shaped and low profile, for a less prominent projection and a subtle, more natural appearance. This type of implant provides additional volume to the breasts without appearing obviously augmented with implants.
When it comes to breast projection, this is a term that refers to the breast profile, i.e., how close or far from the chest wall the breast tissue reaches. Breasts can be flat in appearance with little horizontal depth, or projected, meaning they extend out from the chest wall.
The fullness of a woman's breasts can be determined based on where the nipple lies in relation to the rest of the breast. For example, if there is more breast tissue above the nipple than below it, then a woman has full-on-top (FOT) breasts. If a woman has more breast tissue below the nipple, they have full-on-bottom (FOB) breasts. Breasts with evenly distributed tissue above and below the nipple have even or all-over fullness.
The sculpted upper cleavage fill can be created most often through the selection of appropriate implants. Fat grafting to the upper portion of the breast through a combination of liposuction and fat transfer can further refine this effect.
Composite breast augmentation with fat grafting to the décolletage—a technique that repurposes fat from a location such as the abdomen—is a good option for those deficient in soft tissue who are looking for a more natural appearance or enhanced cleavage to correct an overly wide distance between the breast.
Many women express an interest in achieving a natural shape. What constitutes a natural shape, however, differs depending on each woman's conception of what is natural. Many women find the breast shape commonly found in Hollywood celebrities and Victoria's Secret models to be highly desirable. These patients often express an interest in a "push-up bra" appearance, but without the bra.
Silicone Vs. Saline
Silicone breast implants are pre-filled with a cohesive, silicone gel. These breast implants are widely considered to feel more natural to the touch and also appear more natural. Because these breast implants contain silicone, the FDA recommends an MRI scan every several years to monitor the implant shell's condition. Silicone breast implants are approved for patients at least 22 years old at the time of surgery.
Saline breast implants are silicone shells filled with saline during surgery once they've been placed into the patient's breast pocket. Because the implant has less volume at the time of insertion, a smaller incision size is used. Saline implants do not contain any silicone so long-term monitoring with an MRI scan is not necessary. For some women with less natural breast tissue, visible rippling at the edges of the implants can be seen. In the very rare cases of saline breast implant rupture, the saline is safely absorbed by the body. Saline breast implants are approved for patients at least 18 years old at the time of surgery.
Breast Augmentation Recovery
Breast augmentation surgery is an outpatient procedure that typically takes about one hour, but will vary depending on your treatment plan. You will be able to go home the day of surgery and will need a friend or family member to drive you home and help you with aftercare. You will be prescribed medication to treat any postoperative pain. For pain relief, Dr. Namnoum takes a non-narcotic (or limited narcotic) approach. By using a combination of nonsteroidal medications (such as Advil and Tylenol), pain can be effectively relieved while avoiding the unwanted side effects of opioids, such as drowsiness, nausea, and constipation.
It is normal to experience some swelling and bruising for several weeks, but pain and discomfort should resolve within a few days.3 You may need to wear a compression garment for several weeks after surgery. Patients typically take at least one week off of work and are advised to avoid strenuous activity for several weeks. You will receive detailed recovery instructions and be scheduled for follow up appointments. It is important to contact us if you have any questions during recovery.
FAQs About Breast Augmentation Surgery
How much does breast augmentation cost?
The price of breast augmentation can vary depending on several factors, such as the extent of the procedure and the type of breast implants chosen. We understand that cosmetic surgery is a considerable expense for most patients, and are proud to provide financing options for qualified patients.
Is An Overnight Hospital Stay Required?
No. Breast augmentation is done onsite in our state-of-the-art surgical center and patients are able to go home several hours after their procedure.
Will I Be Able to Breastfeed With Breast Implants?
Studies show that breast augmentation should not affect your individual ability to breastfeed.4 If you are planning on breastfeeding in the future, it's important to let Dr. Namnoum know as it may affect the type of incision used during surgery.
Are There Any Risks Associated With Breast Augmentation Surgery?
All surgeries run the risk of side effects but significant complications are rare. Breast augmentation has long been one of the most popular cosmetic surgeries in the world5 and is generally considered safe6 when performed by a board-certified plastic surgeon.
Potential risks include swelling, redness, bruising, infection, bleeding, changes in sensation and general anesthesia risks. One of the most common complications of augmentation mammoplasty is capsular contracture, which is the normal formation of scar tissue around the implant.7 Patient safety is of the utmost importance to Dr. Namnoum, and he will explain all possible surgical complications and risks during the initial consultation.
There is some uncertainty about the role of textured breast implants in the development of Implant-Associated Anaplastic Large Cell Lymphoma (BIA-ALCL), a type of breast cancer in some patients. Because of this, Dr. Namnoum rarely uses textured implants.8
Am I a Candidate for Breast Augmentation?
Those who are in good general health, want larger, more full, or better shaped breasts and have realistic expectations, are likely good candidates for this procedure.
Will I Have Scars After Breast Augmentation Surgery?
Most patients experience minimal visible scarring after breast augmentation as Dr. Namnoum works hard to ensure that the incisions are well hidden in the natural inframammary folds of the breasts.