Dr. James D. Namnoum | Board Certified Plastic and Reconstructive Surgeon
Breast Procedures
Breast Augmentation with Mastopexy
Breast augmentation is often combined with mastopexy (breast lift) for women that are experiencing sagging of the breasts and breast tissue as a result of normal signs of aging, heredity, weight loss, or childbirth and breastfeeding.1 Board-Certified Plastic Surgeon Dr. James Namnoum understands that this cosmetic breast procedure can be sought for a variety of reasons, like correction of the areola and nipple position, creating a tighter and more lifted appearance, or changing the size or shape of your breasts. While the treatment options are nuanced, breast augmentation alone does not always provide the desired results if you're experiencing a loss of skin elasticity and volume in the breasts.
A breast lift performed in conjunction with augmentation tailors the excess skin and lifts the nipple upward on the breast mound. There are a variety of breast lift techniques, and liposuction can be utilized for further refinement of excess breast skin and tissue, while fat transfer to the breasts and breast implants can be used to increase breast volume. Breast augmentation and mastopexy procedures can dramatically improve the appearance of your breasts; however, they are technically challenging and are best performed by experienced surgeons, like Dr. Namnoum, for ideal results.
View Breast Augmentation with Mastopexy Before & After Photos
What is Breast Augmentation with Mastopexy?
Breast augmentation is designed to change the overall size of the breasts and is highly customizable. When performed with a breast lift, augmentation with smaller implants can help to create a more effective lift than mastopexy alone, while larger implants can offer a more dramatic result in regards to the overall size of the breasts.
Sometimes referred to as a breast lift, the mastopexy procedure is performed with one goal in mind: remove unwanted skin and tighten the breast tissue to deliver lifted, perkier, and rounder breasts. The breast lift procedure has grown in popularity in recent years. In fact, since 2000, this option is 70% more common than in the years prior.2 By removing the excess skin and tightening tissues around the breasts, mastopexy surgery can deliver a more youthful and contoured look.
Am I A Candidate For Breast Lift With Implants?
Every woman's figure is uniquely their own, and Dr. James Namnoum's goal is to help them achieve the natural, lifted, and full look that they are seeking. Candidates considering the breast augmentation procedure with breast lift should discuss their aesthetic goals during their initial consultation in our Atlanta-based offices.
If breast lift surgery is determined to be the best option, good candidates are:3
Healthy non-smokers that are at a stable weight
Women experiencing sagging or uneven balance of their breasts
Patients that are seeking to restore loss of volume and size in their breasts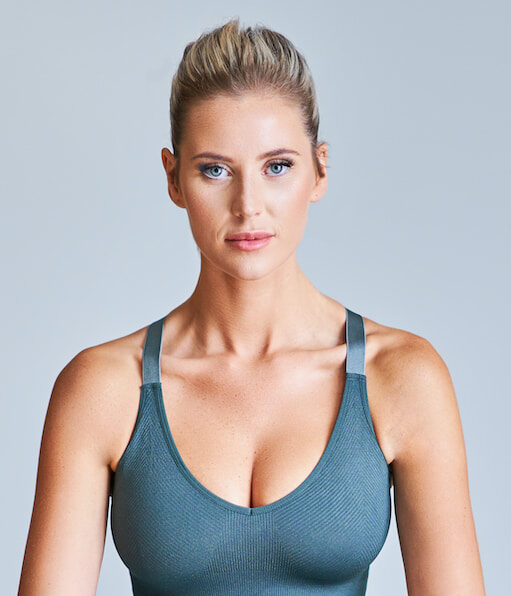 Preparing for Breast Augmentation With Lift Surgery
Prior to visiting our office for a consultation, we encourage patients to research their options for breast-related cosmetic procedures and bring any questions or concerns they have with them when meeting with Dr. Namnoum and our team. We are also happy to assist with research and questions over the phone before the appointment.
For women seeking breast augmentation with lift, we recommend that they discuss their overall goals and medical history with Dr. Namnoum. Patients should have a realistic expectation of the results this combined surgical option can offer. Once both he and the patient have determined that breast augmentation with mastopexy is the best option, Dr. Namnoum will provide a comprehensive overview of your options, including silicone or saline implants, then create a surgical plan and schedule the surgery.
The Procedure: Breast Augmentation With Mastopexy (Breast Lift)
Dr. Namnoum is a highly experienced breast augmentation and breast lift specialist and has worked with many patients over the years to help restore the loss of volume and tightness of the breast tissue they are experiencing. Performing this outpatient surgery under general anesthesia, Dr. Namnoum will use one of several techniques—such as the lollipop or periareolar incision—to create incisions that will remove excess skin around the breasts, lift the nipple position from pointing down towards the breast crease and improve the overall shape of the nipples to further eliminate the sagging appearance. Dr. Namnoum will then place the implants decided upon with the client prior to surgery to increase breast size, and then place sutures within the breast tissue to create a more lifted and perky shape.4
Recovery and Results
After breast augmentation with breast lift surgery, Dr. Namnoum and his team will place bandages over the incisions to help with healing. In order to keep swelling to a minimum and support the healing process, patients should wear a support bra.5 Pain medication will be prescribed to ensure a comfortable recovery period and follow up appointments will be scheduled with our office to ensure the incisions are healing properly, with minimal scarring. During these appointments, Dr. Namnoum will be sure to let patients know when it is safe to resume normal daily activities.
Patients will see an almost immediate change in the position and shape of their breasts. Over the next few months, as the swelling and bruising goes down, the shape of the breasts will begin to settle, as well, while the position and volume should appear higher and tighter. The results of breast augmentation with lift surgery are often long-lasting, depending on the patient's commitment to maintaining a healthy lifestyle and care for their skin.6
FAQs About Breast Augmentation With Lift
Will I have visible scars after breast augmentation with lift?
Yes, you can expect to have scars following breast augmentation with a lift and those scars will depend on the incisions used. Dr. Namnoum strives to ensure that scars are thin, and uses advanced scar protocol to ensure optimal healing and less noticeable scarring.
How soon can I go braless following breast augmentation with lift?
It's important for patients to wear a surgical support bra for at least 6 weeks following breast augmentation with a lift. This will ensure that the breast tissue is adequately supported and ensure optimal results. After the initial healing period, you can go braless occasionally, but wearing a bra should be part of your daily habit.
Can I improve the appearance of sagging breasts with implants alone?
For women with mild sagging or laxity of breast tissue, implants alone may improve the appearance of the breasts. However, for those with moderate to severe sagging or skin laxity from weight fluctuations or pregnancy, breast augmentation with a lift may be the only way to eliminate sagging skin.7
Is breast augmentation with a lift safe?
When performed by a board-certified plastic surgeon who is experienced in breast surgeries, breast augmentation with a breast lift is considered safe. As with any surgical procedure however, there is some risk of complications which include anesthesia risks, infection, hematoma, bleeding, loss of sensation, seroma, capsular contracture, implant rupture, poor wound healing, and suboptimal scarring.8