Dr. James D. Namnoum | Board Certified Plastic and Reconstructive Surgeon
Breast Procedures
Breast Lift
There are many factors that can contribute to sagging breasts, including loss of skin elasticity from aging, breastfeeding, pregnancy-related weight fluctuations, and weight loss.1 Breast lift surgery, also referred to as mastopexy, can restore a higher breast position for a perkier, more youthful appearance. Atlanta Breast Surgery Specialist Dr. James Namnoum is a board-certified plastic surgeon and leader in cosmetic and reconstructive breast surgery. Dr. Namnoum offers personalized breast lift procedures as well as breast lift with augmentation and breast lift with breast implant removal.
What Is A Breast Lift?
A breast lift is an outpatient surgical procedure performed under general anesthesia to improve the position of the areola and nipple, tighten the breast skin, and reshape the new breasts into a more elevated position. While a breast lift on its own will not enhance breast volume or change the size of your breasts, it can be performed with breast augmentation or breast reduction, depending on the patient's desired outcome. There are a variety of breast lift techniques, including:
Crescent Lift: This technique is typically for women with a small amount of skin laxity and sagging. This surgical technique utilizes a small incision that runs along the top half of the areola.
Donut Lift: This technique is also indicated for women with mild sagging and involves a single peri-areolar incision that runs around the circumference of the areola.
Lollipop Lift: This technique is typically for women with moderate to significant sagging and involves a peri-areola incision and a vertical incision running from the bottom edge of the areola to the breast crease or inframammary fold.
Anchor Lift: This type of breast lift is typically indicated for women with significant sagging. This technique involves a peri-areola incision, a vertical incision that runs from the bottom edge of the areola to the inframammary fold and one that is hidden in the breast crease.
Benefits of A Breast Lift
Rejuvenate drooping or deflated breasts
Increase confidence
Reduce excess skin for a tighter, firmer look
Eliminate physical discomfort caused by sagging breasts
Reposition nipples that have begun to point downward
What to Expect During Breast Lift Surgery
During a breast lift procedure, Dr. Namnoum tightens the supporting breast tissue and trims the excess skin around the breasts to give the breasts a more youthful and upward position. Often, he will use specialized techniques to rearrange the sagging glandular tissue. The shifting of sagging tissues from the lower portion of the breast to the upper results in improved projection and enhanced decolletage. Dr. Namnoum may use fat transfer to the cleavage and upper portion of the breast through a combination of liposuction from the hips, abdomen, or thighs for a more refined result.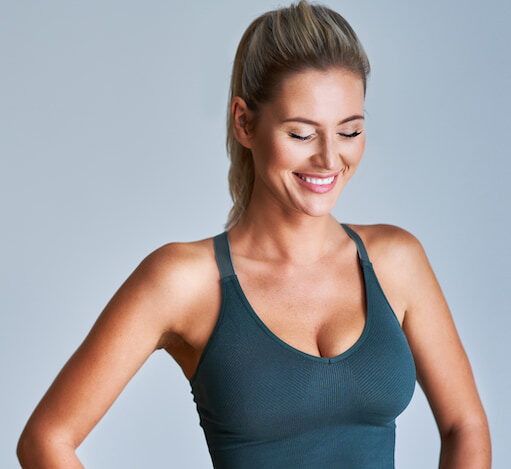 Preparing for Breast Lift Surgery
The first step is your consultation with Dr. Namnoum at his Atlanta office. During your appointment, he will examine your breasts, discuss your concerns, and gain an understanding of your aesthetic goals. 3-Dimensional imaging and analysis will help review the existing breast shape, identify asymmetries, refine the goals, and model the desired improvements in appearance. If you and Dr. Namnoum agree that you are a candidate for breast lift surgery, he will outline a personalized treatment plan. You will need to refrain from smoking and all tobacco products prior to surgery.
Breast Lift Recovery
You will likely experience some swelling and discomfort or pain after surgery, but Dr. Namnoum will provide you with pain medication to ensure your comfort as much as possible during the recovery period. You can expect to wear a special soft bra to aid in your healing. You will need to refrain from any heavy lifting or strenuous movement for at least three weeks after your procedure. Dr. Namnoum will provide detailed post-operative instructions and schedule a follow-up appointment to monitor your recovery.
Breast Lift Results
Candidates for Breast Lift Surgery
Good candidates for breast lift surgery are typically women whose breasts have shifted downward in position due to the effects of pregnancy, age, heredity, or weight loss. Ideal candidates for this cosmetic surgery are in good general health and at a stable weight.
FAQs About Breast Lift Surgery
What do breast lift scars look like?
Because of Dr. Namnoum's expertise in breast surgery, he can utilize techniques to avoid the commonly used "anchor-shaped" incision. This minimizes the scarring that can result from breast lift surgery. Postoperative scar treatments are designed to accelerate scar maturation and minimization.
Will a breast lift change my bra size?
Breast lift surgery without implants is not intended to change the size of the breasts. It is typical, though, for patients to report wearing a slightly smaller bra size after surgery because they previously needed a larger cup to hold the excess skin or sagging tissue, while some patients find that their breasts appear larger because they have improved cleavage.3 The addition of fat grafting to the upper pole of the breast and cleavage (decolletage) will enhance the result without significantly changing the breast size. Fat grafting may also be of value to equalize the volume of the breast when significant asymmetry is present.
Should I get breast implants in addition to breast lift surgery?
Breast lift surgery is a great option for patients who have always been happy with the size of their breasts but are seeking a solution to sagging or would like to improve the position of their breasts. If, however, you would like to add volume to your breasts, then a mastopexy with augmentation may be right for you.
Can I combine any other body contouring procedures with breast lift surgery?
Are there risks associated with breast lift surgery?
Any and all medical procedures carry some risk of side effects or complications. Potential risks of breast augmentation can include infection, bleeding, fluid accumulation, or changes in breast sensation.4 Dr. Namnoum is highly experienced and is deeply committed to patient safety.
Will I be able to breastfeed following breast lift surgery?
Yes. Women who have cosmetic procedures like breast lift surgery should retain the ability to breastfeed.5
What does breast lift surgery in Atlanta cost?
Dr. Namnoum does not believe in one-size-fits-all when it comes to plastic surgery. Since each patient receives a customized treatment plan, the price of breast lift surgery can vary. The best way to learn more about breast lift surgery is to schedule a consultation appointment.