Dr. James D. Namnoum | Board Certified Plastic and Reconstructive Surgeon
Body Procedures
Liposuction
Most people have felt the desire for a slimmer shape, a contoured midsection, or beautifully sculpted thighs or upper arms at some point. However, for many, diet and exercise alone are not enough to achieve these goals. There are many factors that account for why certain pockets of fat remain so stubborn and resistant to our best attempts to slim, tone, and sculpt. Liposuction is a procedure that removes unwanted fat from an area of the body through tiny cosmetically hidden incisions.
If you are unhappy with stubborn areas of fat, Liposuction body contouring surgery can give you beautiful, natural-looking results. Atlanta Liposuction and Body Sculpting Specialist Dr. James Namnoum is a Board-Certified Plastic Surgeon offering a variety of Liposuction and body sculpting and reshaping procedures.
Benefits of Liposuction
Liposuction is one of the most common cosmetic procedures in the United States. More than 265,000 surgeries are carried out each year because it is the gold standard for removing undesirable fat on specific areas of the body.1 Liposuction can:
Eliminate stubborn fat
Enhance the contour and shape of specific body parts
Influence people to develop healthier exercise and diet habits to optimize and maintain their results
Improve self-confidence and body image
What to Expect During Your Liposuction Surgery
There are a number of different techniques for Liposuction, including Power Assisted Liposuction, Laser Assisted Liposuction, Water Assisted Liposuction, and Ultrasound Assisted Liposuction. While each of these technologies potentially offer certain advantages, practically speaking, none of them are superior to conventional, Tumescent Liposuction—the gold standard of body sculpting, provided that it is done well by an experienced provider.
The tumescent technique has been used for many years to provide safe and effective fat removal. Tumescent Liposuction involves the placement of large volumes of fluid with highly diluted quantities of Novocain and adrenaline within the area of treatment. This reduces bleeding during Liposuction while also providing analgesia or pain relief. Tumescent Liposuction also allows Dr. Namnoum to perform the procedure without general anesthesia in select cases. However, general anesthesia is preferred for Liposuction when treating several areas and when Liposuction is combined with breast and abdominal surgery.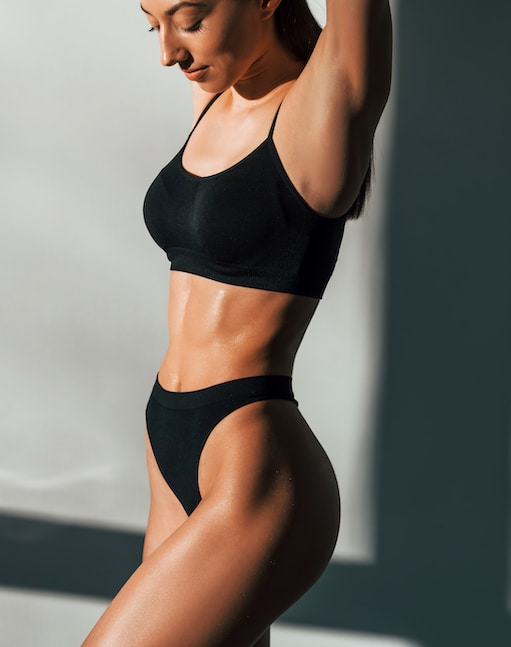 Preparing for Your Liposuction Surgery
Your Liposuction will be performed in our state-of-the-art surgical facility. It's important that you arrange for someone to drive you to and from surgery and to stay with you for at least 24 hours following your surgery. You will also need to do the following before your Liposuction procedure:
Stop smoking for at least six months prior to your surgery2
Fill any prescriptions provided by Dr. Namnoum
Avoid blood-thinning medications such as aspirin, certain anti-inflammatory drugs, and herbal supplements
Liposuction Recovery
Immediately following your Liposuction procedure, you will be fitted with a compression garment or elastic bandages that you will wear for the duration of your recovery period. These garments minimize swelling and compress your skin to fit the new contours of your body. Dr. Namnoum may also place small temporary drains to avoid the build-up of any excess fluids or blood. It's critical during the initial two weeks of healing that you don't subject your surgical incisions to excessive force or motion. Dr. Namnoum will provide specific instructions on how to care for yourself during your recovery when you schedule your surgery.
Generally, swelling dissipates gradually day-by-day, and is completely gone in several months. Your new slim shape, and defined contours will continue to emerge with each day.3
Liposuction Results
Following Dr. Namnoum's post-procedure instructions is the key to your surgery's success. While areas of the body treated with Liposuction enjoy permanent results, provided you maintain a healthy diet and stable weight, like any body part they still are subject to the effects of natural aging and weight fluctuations.4 Your new and improved body shape and contour will immediately be apparent once swelling subsides.
Am I A Candidate For Liposuction?
If you are bothered by stubborn pockets of excess fat located anywhere on your body that do not respond to exercise or diet, Liposuction may be right for you. Good candidates for Liposuction include:
People within 30% of their ideal body weight who have elastic, firm skin and moderate muscle tone5
Individuals who are in general good health
People with realistic expectations
People who do not smoke
Individuals with a positive outlook and specific goals in mind for body contouring.
Frequently Asked Questions About Liposuction
What areas can be treated with Liposuction?
Typical areas treated with Liposuction include the abdomen, upper back, love handles, outer thighs, buttocks, inner thighs, knees, anterior thighs, arms, and neck.
Are my Liposuction results permanent?
Once the fat is removed via Liposuction from an unwanted area, it is gone. In rare circumstances—such as massive weight gain—new fat cells can be made by the body in an area previously depleted by Liposuction. For the vast majority of patients, however, the fat will never recur after removal. When fat is removed from an area, it is important to note that it does not preferentially go to some other un-treated area. This is a common misconception. Extra calories consumed will be stored in the form of fat everywhere fat cells are present in the body. An area depleted of fat cells following Liposuction will demonstrate less volume gain than an area untreated by Liposuction, while individual fat cells are not affected.
Can I combine fat transfer with my Liposuction procedure?
The fat that is harvested during your Liposuction procedure can be transferred to enhance areas where additional fat is desirable such as the breast, buttock, and face. Your harvested fat can also be transferred to fill an area with an acquired contour deformity from trauma or previous surgery.
How much does Liposuction cost?
There is no one-size-fits-all price for Liposuction. This is because everyone has unique cosmetic goals, and a unique surgical plan that is tailored to their specific needs. During your consultation, Dr. Namnoum will discuss the result you'd like to achieve, and provide you with comprehensive pricing as well as payment plan and financing options.
Are there risks associated with Liposuction?
As with any surgery, there are some risks associated with Liposuction but it is generally considered safe for patients in reasonably good health. Complications are rare, but include the following:
Risks associated with anesthesia
Bruising and swelling
Changes in skin sensation or sensitivity
Nerve damage
Blood clots
Infection
Irregular asymmetrical contours
Irregular pigmentation
Poor wound healing