Dr. James D. Namnoum | Board Certified Plastic and Reconstructive Surgeon
Breast Procedures
Fat Transfer Breast Augmentation
Fat transfer breast augmentation, also called composite breast augmentation or lipo-implant augmentation, is an advanced breast enhancement surgery that combines traditional breast augmentation using breast implants and natural breast augmentation using fat grafts.1
Breast surgery specialist Dr. James Namnoum is highly sought after in Atlanta for his expertise, and is proud to offer his patients composite breast augmentation for beautiful and natural-looking breasts. This state-of-the-art procedure can enhance breast contours and increase breast volume for patients considering breast augmentation for the first time as well as those seeking revision surgery.
What Is Fat Transfer Breast Augmentation?
Fat transfer breast augmentation, or composite breast augmentation, is a breast surgery that enhances the shape, volume and projection of the breasts using both breast implants and fat transfered from elsewhere on the body. This surgery is generally indicated when either modality would not be sufficient to provide the desired result on its own.
In a composite breast augmentation procedure, most breast volume is supplied by the breast implants, and the simultaneous fat transfer allows Dr. Namnoum to better conceal the implant and build out cleavage while maintaining a natural look. Dr. Namnoum harvests the patient's body fat, typically from the abdomen, thighs, or buttocks, and uses it to cover the implants and contour the cleavage.
Benefits of Fat Transfer Breast Augmentation
Conceals Breast Implants
Composite breast augmentation allows Dr. Namnoum to conceal the breast implants properly so that rippling or edges do not show through the skin. Fat transfer breast augmentation is especially beneficial for very thin patients, those without enough natural breast tissue, and patients with saline implants placed above the muscle.
Improves Breast Shape
Composite breast augmentation can create cleavage and fullness in the upper pole of the breast when a woman's natural breast pocket or shape does not lend itself to this effect.
Corrects Asymmetry
Fat transfer is ideal for fine-tuning the shape and size of the breasts to correct any asymmetry. Often, for women with asymmetry in their natural breasts, a balanced and symmetrical look cannot be achieved with breast implants alone.
Restores Previous Breast Implant Results
Over time breast implants can cause natural breast tissue to thin. For some women, breast implants that were satisfactory at the time of placement show rippling as the skin ages. Composite breast augmentation can restore the original augmentation results to their original size and contour.2
Candidates For Fat Transfer Breast Augmentation
Ideal candidates for fat transfer breast enhancement are typically those who:
Desire highly customized results
Do not have enough natural breast tissue to cover an implant adequately
Want increased upper pole projection
Want to obtain maximum cleavage
Have breasts that narrow or asymmetric
Breast shape or size has changed since original breast augmentation surgery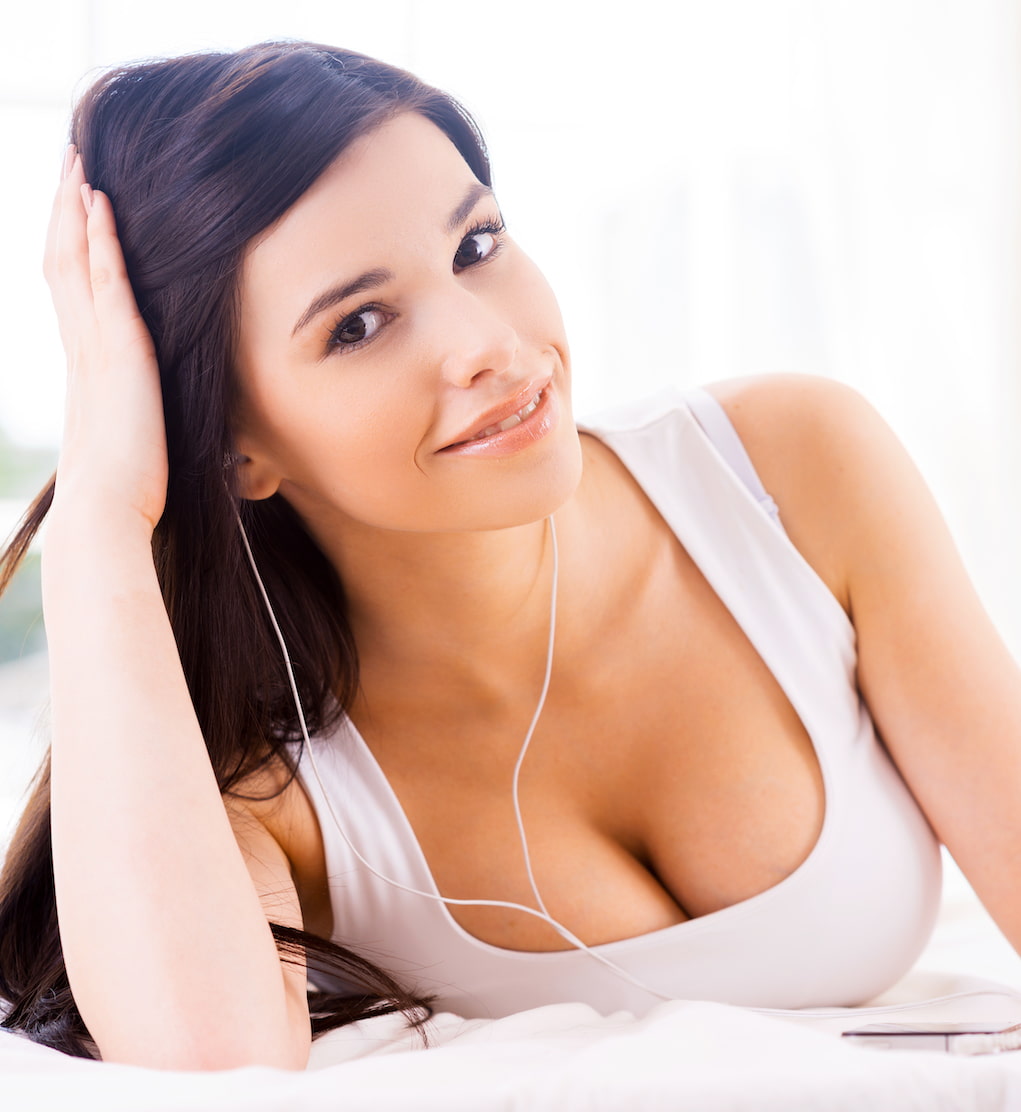 Fat Transfer Breast Augmentation Recovery
Composite breast augmentation surgery typically takes about three hours, but this can vary depending on the individual treatment plan and the amount of fat required for the grafting. Patients can expect to return home immediately following surgery and should plan to have a family member or friend provide a ride and help with aftercare for the first 24 hours.
Dr. Namnoum will prescribe pain medication to alleviate postoperative pain, but his limited narcotic approach includes the use of nonsteroidal drugs to avoid unwanted opioid side effects, including constipation, nausea, and drowsiness.
Some tightness, bruising, and swelling is expected for several weeks following fat transfer breast augmentation, but any discomfort or pain should dissipate within several days.3
Following surgery, each patient is provided with detailed post-operative instructions and scheduled for follow-up appointments. In general, patients should plan to take one week off of work and avoid any strenuous activity for three weeks.
FAQs About Fat Transfer Breast Augmentation
Am I a Candidate for Breast Augmentation?
Individuals who are in good general health, have realistic expectations, and desire fuller, larger, or more shapely breasts with enhanced cleavage are likely ideal candidates.
Does Composite Breast Augmentation Come With Additional Scars?
While composite breast augmentation does require several additional incisions to harvest the fat and then distribute the fat grafts, those scars are so small as to be virtually undetectable. And as with any breast augmentation surgery, Dr. Namnoum goes to great lengths to ensure that breast implant incisions are hidden in the breasts' natural inframammary folds.
How Much Does Composite Breast Augmentation Cost?
Because each patient has unique anatomy and goals, the exact cost of composite breast augmentation can only be determined during a personal consultation with Dr. Namnom. Financing is available for qualified patients.