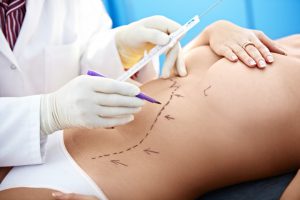 Liposuction has been one of the most popular cosmetic plastic surgery procedures for a long time, and for good reason; it's extremely effective at safely reducing stubborn fat, and it can be a great complement to diet and exercise. In 2018, liposuction was the second most popular type of plastic surgery in the United States, with over 250-thousand procedures performed. Most people are familiar with liposuction's ability to contour the body for a slimmer, more aesthetically pleasing figure, but many don't realize that liposuction is often used to complement other cosmetic procedures. Therefore, for today's blog, I'm discussing some of the procedures with which I often combine liposuction to achieve even better results.
Contouring a Small Area
I frequently use liposuction to remove small amounts of fat from near or around the breasts. In doing so, I can sculpt the surrounding area around a patient's chest, breasts, and back to better the overall physique. Removing a seemingly miniscule amount of fat can make a remarkable difference. Liposuction in these smaller areas is frequently combined with breast reduction, breast augmentation, and other body-contouring procedures in some women.
Facial and Neck Rejuvenation
Liposuction can be an effective method of making the face appear younger and/or healthier. Many people have isolated pockets of fat in their neck, double-chin, and/or jawline, and liposuction can directly target these areas. Many patients are surprised to learn that liposuction can address their double-chin or make their jawline more defined, but I can combine it with other face and neck procedures to enhance a patient's results. In some cases, it can even eliminate the need for a full face lift or neck lift.
Adding Volume Elsewhere on the Body
Fat transfer is an extremely versatile technique whereby fat is removed from one part of the body (via liposuction) and relocated elsewhere on the patient. It can be used to subtly improve the look of the face by adding small amounts of extra volume, replace the function of artificial implants in a breast or butt augmentation procedure, and more. Due to the presence of a variety of cells, including stem cells, fat grafting in the face serves the purpose of volume restoration and regeneration. Fat transfer has many advantages. Because it uses the patient's own tissue, this procedure is remarkably safe. Many people think that the results of fat transfer have a better, more natural look and feel than artificial implants.
If you'd like to learn about the procedures I perform, contact me, Dr. James Namnoum, to schedule a consultation. Don't forget to connect with me on Facebook, Twitter, and Instagram, and come back to the blog soon for more advice and information on looking your best.