Dr. James D. Namnoum | Board Certified Plastic and Reconstructive Surgeon
Body Procedures
Tummy Tuck
A tummy tuck or abdominoplasty is a procedure in which the lower abdomen is rejuvenated after pregnancy, weight loss, or other lifestyle changes that result in laxity of the abdominal wall and skin redundancy of the abdomen.
Dr. James Namnoum has earned a reputation for achieving excellent tummy tuck results for his patients in the Atlanta area. His technical skill, warm manner, and caring, compassionate staff allow for stunning results and a world-class plastic surgery experience.
Benefits of Tummy Tuck Surgery
Reduction of abdominal fat
Improved body contours
A flatter, trimmer tummy area
Reversal of diastasis recti (separation of abdominal muscles during pregnancy)
Increased self-esteem and improved quality of life1
Who is a Candidate for Tummy Tuck?
Both men and women may benefit from abdominoplasty. Ideal candidates for tummy tuck:
Don't anticipate losing a significant amount of weight or becoming pregnant after the procedure
Are in good overall health
Have stubborn pockets of abdominal fat that don't go away with exercise
Have realistic expectations about what can be achieved through plastic surgery2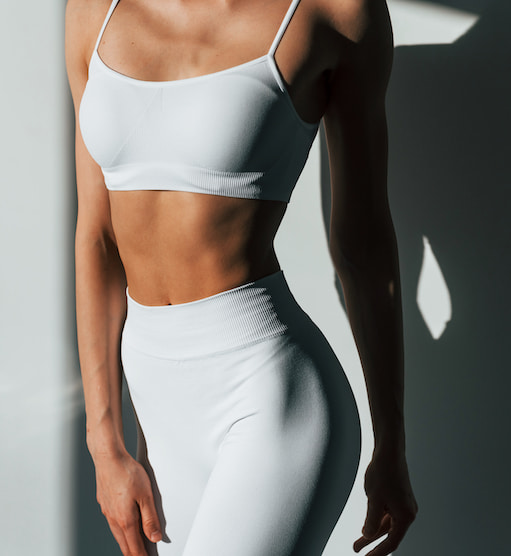 Preparing for Tummy Tuck
The most critical step in preparing for a tummy tuck is to find a plastic surgeon whose experience, techniques, and results you can trust, such as James Namnoum, M.D.
Dr. Namnoum may instruct you to stop taking certain prescription medications in preparation for your abdominoplasty, and you should also avoid over-the-counter pain medications, supplements, or anti-inflammatory medications in the days before your surgery. If you are a smoker, you should stop smoking at least two weeks before your abdominoplasty.3
The Tummy Tuck Procedure
During the procedure, an incision is made over the lower abdomen in order to gain access to the abdominal wall in order to tighten stretched out muscles and fascia, The deep tissues are repaired utilizing sutures to create a corseting effect, re-establishing and enhancing the normal anatomical relationships present in youth prior to pregnancy and weight gain.
The amount of skin removed during abdominoplasty is dependent on the excess present preoperatively and varies from patient to patient. The extent of skin redundancy determines the length of the scar. In some cases, the belly button may be floated downward with the abdominal skin and no scar around the perimeter of the belly button is required. For women with more skin redundancy, the belly button remains static and the abdominal tissues are moved around it. In these instances, a scar around the new belly button is required.4
Short Scar Tummy Tuck
For many women both the dynamic and static components of the abdominal wall are affected by pregnancy and it is almost impossible to make a complete recovery without surgery. This is owed to the lost elasticity after pregnancy, weakening of the abdominal fascia, and thinning of the musculature. Even thin women who have little or no extra skin demonstrate the same abdominal wall laxity after pregnancy. These women may be candidates for mini abdominoplasty through a shorter scar.
Mommy Makeover with Tummy Tuck
In addition to the changes seen in the abdominal skin and musculature, many women develop fatty accumulation on the brassier roll, hips, outer thighs, lateral buttock, and inner thighs. During a tummy tuck, rejuvenation of all of these areas may be added to further enhance the result. Female patients may also wish to combine tummy tuck with a breast lift, breast augmentation, or a breast lift with augmentation. Many patients refer to this combination of body contouring procedures as a Mommy Makeover because it enables women to return to their pre-pregnancy bodies.
Tummy Tuck with Liposuction
Lipo-abdominoplasty refers to a procedure incorporating extensive liposuction of the entire abdomen with abdominoplasty. It can be distinguished from a conventional abdominoplasty by the amount of liposuction performed on the tissues of the upper abdomen and is appropriate for a number of women.
Tummy Tuck Recovery
Depending on the extent of the abdominoplasty procedure, patients may be fitted with a compression garment or may have drains placed to collect excess fluid from the surgical site following tummy tuck.
Following tummy tuck, patients can expect to experience some discomfort, and Dr. Namnoum will prescribe medication to help keep them comfortable. Ideally, patients should sleep with their upper body slightly inclined, as this will reduce pressure to the surgical site and enhance their comfort.
Within one week after tummy tuck, discomfort and swelling will be significantly diminished. Patients should wait at least four weeks before returning to strenuous activity.
Tummy Tuck Results
Ideally, following abdominoplasty, the abdominal wall is transformed and the skin is improved, creating a lengthening of the abdominal torso: The scar is placed very low, below a C-section scar extending to the sides at the interval where the thigh joins the abdomen. The resulting scar should be in the same location where a thong panty would lie in order to give the most aesthetic result.