Dr. James D. Namnoum | Board Certified Plastic and Reconstructive Surgeon
Face Procedures
Facelift & Facial Fat Grafting
Atlanta facial plastic surgery specialist and Board-Certified Plastic Surgeon, Dr. James Namnoum knows that genetics, aging, and sun exposure all take a physical toll on facial skin texture and laxity. In addition to developing fine lines, wrinkles, and creases, most people also lose elasticity over time, causing sagging jowls, deep folds, and an overall tired and aged appearance. Some patients find their self-esteem impacted as these normal effects of time cause them to look older than they actually are.
A facelift with fat grafting is a single surgery that combines two procedures for an enduring solution to address all of these cosmetic concerns. Atlanta surgeon Dr. James Namnoum has perfected surgical techniques to restore facial definition by repairing and re-engineering deeper layers of underlying muscle and tissue. Artistic vision and scrupulous attention to detail are the benchmarks of Dr. Namnoum's surgical practice, allowing him to provide a completely natural, youthful look for patients.
Facelift
Facelifting techniques are designed to correct the aging changes of the skin and deep structures of the face and neck that occur over time. The sagging tissues of the neck, jowl, and cheek are areas that most patients want corrected as they age. A facelift (which includes a neck lift) is the procedure most appropriate for correcting these sagging tissues. During a facelift, an incision is made around the ear and placed in the hairline. This provides access to the skin and deep structures of the face and neck which are elevated, supported and tightened.
Facial Fat Grafting
Fat grafting of the face can be accomplished through the transfer of small quantities of fat from abdomen or thighs to the facial tissues. This procedure is a powerful tool to correct the loss of facial fat that occurs during aging in the temporal region, brow, upper and lower eyelids, cheeks, jawline, upper and lower lips, and chin. The fat is completely natural and long lasting, as opposed to synthetic fillers. Facial fat grafting creates a very youthful, rested, and healthy appearance that no man-made filler can duplicate. It is impossible to overstate the value it provides. As an added benefit, the procedure can be performed under local anesthesia.
Facial Fat Grafting Can Restore Lost Volume In The Following Areas:
Around the eyes
Temporal hollows
Jawline
Cheeks
Lips
Benefits of Facelift With Facial Fat Grafting
The combination of facial volume restoration through fat grafting with more traditional skin and deep tissue tightening yields a very natural, un-operated appearance and represents a significant advancement in facial rejuvenation. The goal is for patients to look 'well' and healthy after the healing is completed. Pigmentation changes in the facial skin, fine and coarse wrinkles and heavy pores can be addressed by laser resurfacing at the conclusion of the facelift procedure.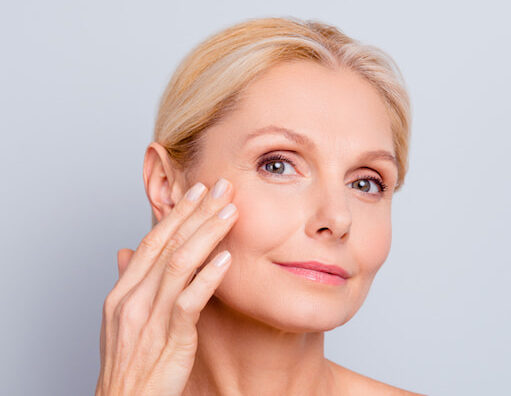 Improved Self-Confidence
As we age, our skin starts to lose laxity and volume leading to an aged or tired look; facelift and facial fat grafting improves self-confidence for many patients as it restores a more youthful appearance.
Define Facial Contour
Facelift and facial fat grafting sculpt the face, defining and improving facial contour and the overall appearance of the face providing a brightened, rejuvenated appearance.
Restore Lost Volume
Facial fat grafting, also known as lipoinjection, restores lost volume in the facial features using the patient's own harvested fat cells extracted from other areas of the body, such as the thighs, buttocks, abdomen, or elsewhere.
Feel More Youthful
Sagging or loose facial skin and jowls lend to a prematurely aged look, and Dr. Namnoum is able to restore a natural-looking, beautiful, and more youthful appearance with facelift and facial fat grafting.
Your Facelift & Facial Fat Grafting Options
Dr. Namnoum takes a personalized approach to every patient he works with and relies on his extensive surgical training, years of clinical experience, and dedication to perfection to deliver superior results every time. Avoiding the unnatural "pulled" and/or "pinched" look some that patients have concerns about, Dr. Namnoum's advanced techniques and artistic vision provide subtle and natural results. During each consultation, Dr. Namnoum will discuss your aesthetic goals and determine which surgical techniques best meet those goals, creating an individualized treatment plan. Depending on the extent of the patient's facial aging and personal anatomy, Dr. Namnoum will recommend either a full facelift or a mini facelift in addition to facial fat grafting. For most patients, Dr. Namnoum recommends combining facelift surgery with laser skin resurfacing to correct age-related concerns and sun-damaged skin. Using Sciton's Erbium Laser (fully ablative) he is able to correct hyperpigmentation, enlarged pores, wrinkles, and laxity, for a dramatic improvement of the skin's texture and luminescence.
Mini Facelift
A mini facelift is appropriate for those patients who have moderate signs of aging, and prefer to undergo a less invasive surgery. The mini facelift targets the lower half of the face and focuses on improving the appearance of excess skin and creases around the jowls. With fine incisions made along the front of the ears, Dr. Namnoum's mini facelift tightens loose skin while removing excess fat and/or tissue to enhance the facial contours.
Mini Facelift Benefits Include:
Restores a youthful and natural-looking appearance
Shorter and less-invasive procedure than a full facelift
Minimal scarring and faster recovery
Appropriate for younger patients with moderate signs of aging
Full Facelift
A full facelift is better suited for patients with more severe signs of facial aging such as deep folds, wrinkles, and loose and sagging in one or more areas of the face. During full facelift surgery, Dr. Namnoum will generally make incisions along part of the hairline and in front of the ear, extending down and around the bottom of the earlobe (although incision sites can vary depending on each individual case and the specific areas being treated). Once incisions are made, Dr. Namnoum will remove excess skin and tighten the underlying facial muscles. Finally, the facial tissue is repositioned and sutures are placed, resulting in a refreshed, natural-looking, and sculpted appearance.
Full Facelift Benefits Include:
A fully refreshed and rejuvenated appearance
Significant improvement in facial contour and definition
Scars are well-hidden in the hairline
Appropriate for patients with severe signs of facial aging
Are You A Good Candidate For Facelift & Facial Fat Grafting?
Patients considering a facelift with facial fat grafting typically voice the following cosmetic complaints:
Deep folds, creases, and wrinkles on the face and neck areas
Severe skin laxity and loss of muscle tone
Development of sagging and loose jowls
Loss of facial definition
An aged and/or tired appearance
Ideal candidates for a facelift with facial fat grafting in Atlanta are women and men who are in general good health, don't smoke,1 have fair skin elasticity, and desire an improvement in the appearance of facial contours. While most patients seeking facelift procedures are in their 40s or 50s, there is no ideal age for this surgery because it is highly dependent on individual factors that contribute to aging such as genetics and lifestyle, which varies greatly from patient to patient.
Facelift & Facial Fat Grafting Recovery
Most patients experience moderate discomfort in the hours following their surgery, and mild discomfort in the first week, as well as some bruising and swelling at the incision sites. Bruising lasts approximately two weeks, and swelling can last several months but diminishes with each day. To decrease swelling, Dr. Namnoum recommends that patients keep their head elevated as much as possible for the first few days after surgery.
Dr. Namnoum will remove stitches approximately five days after surgery. We encourage patients to remember that the final results of the surgery will be obscured while swelling is still present. For most patients however, by the third week most swelling has subsided. We recommend that patients wait three weeks before returning to work and one month before resuming regular activities.
FAQs About Facelift & Facial Fat Grafting Procedures
How Do I Prepare For My Facelift & Facial Fat Grafting?
Once a patient has scheduled their facelift with facial fat grafting surgery, Dr. Namnoum will provide a detailed pre-operative plan individually tailored to the patient's treatment. He will indicate medications to take or avoid, activity and dietary guidelines, as well as any other information the patient may need to ensure a positive outcome.
Additionally, since patients are under general or sedative anesthesia during their surgery it is important that they arrange for transportation to and from Dr. Namnoum's office and have someone to stay with them for at least 24 hours following surgery.
Is An Overnight Hospital Stay Required?
No. Facelift with facial fat transfer surgery is done onsite in our state-of-the-art surgical center and it is generally not required that patients stay overnight. Depending on the individual and treatment plan, Dr. Namnoum may recommend a nurse for the first night. While we do allow patients to move to their home or a hotel several hours after surgery, we do require patients to have someone with them for the first 24 hours following surgery.
Are There Any Risks Associated With Facelift & Facial Fat Grafting Procedures?
All surgeries come with some risk of side effects, but significant complications are rare.2 However, it is still important that you address any questions you may have directly with Dr. Namnoum prior to your surgery. Facelift and facial fat grafting procedures generally considered safe.3 when performed by a board-certified plastic surgeon. Potential risks include bleeding, swelling, redness, infection, facial nerve injury, temporary or permanent hair loss at the incision site, persistent pain, unflattering scarring, numbness, deep vein thrombosis, cardiac and pulmonary complications, and as with any surgery, general anesthesia risks. Patient safety is of the utmost importance to Dr. Namnoum, and he will explain all possible surgical complications and risks during your consultation.
Will I Have Scars After Facelift & Facial Fat Procedures?
Dr. Namnoum works hard to ensure that scars at the incision sites from a mini or full facelift are hidden in the natural contours of each patient's face and hairline.