Plastic surgery procedures to improve the appearance of the breasts have long been among the most popular cosmetic plastic surgery procedures in the United States, but although most people equate cosmetic breast surgery with breast augmentation this is actually only part of the story.  Many women favor procedures that give the breasts a lifted, more youthful look without necessarily increasing their size.  This is part of the reason why breast lift and breast reduction procedures have significantly increased in popularity.  Understanding the sometimes subtle distinctions between these two approaches can provide insight into which might be best suited to your individual aesthetic needs.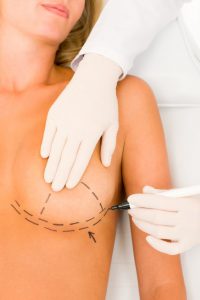 Breast Reduction
For some women, overly large and cumbersome breasts can negatively impact everyday life, increasing self-consciousness, making it more difficult to find clothing that fits correctly, or even causing back and neck pain as well as other related health issues.  In these cases, breast reduction surgery, or a reduction mammoplasty, can remove excess fat, glandular tissue, and skin from the breasts, making them lighter, smaller, and more youthful looking.  If the size of the breasts has caused the area surrounding the nipple, or areola, to become stretched or distorted, areola reduction techniques can even be used to give them a more proportionate appearance.  While a breast reduction may naturally alleviate much of the sagging that can often affect overly large breasts, this is not its primary purpose.  More frequently a breast lift is used to achieve that specific result.
Breast Lift
Like a breast reduction, a breast lift or mastopexy procedure does involve the removal of small amounts of breast tissue and excess, sagging skin, but the two techniques are actually very different in terms of both their goals and execution.  Specifically, the purpose of a breast lift is to counteract the effects of age and gravity, weight loss, or breast feeding and to give the breasts a firmer, more lifted appearance.  This can often be done by redistributing breast volume that has begun to sag and droop from lower areas of the breast to the central and upper portion of the breast where the tissues are deficient. The result is a breast with enhanced central projection and augmented volume in the upper portion.  In many cases, a mastopexy can even be combined with fat transfer techniques to further enhance the area and create a fuller and more natural looking breast.  Although a breast lift can achieve some of the cosmetic effects of a breast reduction, without significantly reducing the size of the breasts themselves, it will not alleviate any of the physical difficulties (like back or shoulder pain) that a patient with large breasts might experiencing.
Because each of these procedures works differently and aims at achieving different, albeit related, goals the two are frequently performed at the same time during various combination procedures.  For example, some women who are left with uncomfortably large and sagging breasts after pregnancy and breast feeding incorporate both a breast reduction and breast lift as a part of a larger mommy makeover procedure.  In these cases the goal is a minor volume reduction in conjunction with an enhancement of shape, projection, and cleavage.  Ultimately every woman's body is different, and so I work with each of my patients during consultation to determine their specific aesthetic goals and what combination of procedures can best realize them.  If you are interested in a breast lift, breast reduction, or in any of the other body contouring procedures I perform, please contact me, Dr. James Namnoum to schedule a consultation.  Don't forget to connect with me on Facebook, Twitter, Instagram, and Google+ for more plastic surgery news and updates.