We're all familiar with the toll that pregnancy can take on a woman's body. Because of the physical stresses and abrupt, back-and-forth changes that pregnancy and childbirth entail, women who have had children are often great candidates for plastic surgery. To address some of the common results of childbearing, many women turn to the mommy makeover. However, any woman, mommy or not, can potentially benefit from the diverse set of procedures I may recommend to get her back to her pre-pregnancy body.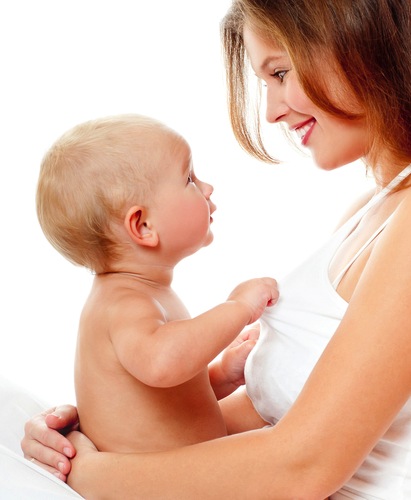 What constitutes a mommy makeover is far from being etched in stone. Really, the term is a convenient label that encompasses several different procedures used to address the effects of weight fluctuation. The effects of pregnancy may cause two women to need completely opposite procedures. For example, the effects of breast feeding may necessitate a breast lift in one case and a breast reduction in another. The fact that pregnancy affects every woman's body differently is one of the main reasons the mommy makeover is so versatile, and a woman doesn't need to be a mother to be unsatisfied with the natural appearance of her breasts.
To correct imperfections in the breasts sustained after pregnancy, a breast lift (mastopexy) is the most commonly needed single procedure. Many women's breasts decrease in size and sag after pregnancy and breastfeeding, and a breast lift can restore their pre-pregnancy, perkier appearance. Many women who experience deflating of the breasts after pregnancy, as well as women who simply want to enhance their original breast size, also choose to add a breast augmentation in concert with their breast lift. This combination is more common than a lift alone. However, some women's breasts become much larger after breastfeeding, in which case they may opt for a breast reduction procedure. Genetics, age, and lifestyle can put stress similar to that of pregnancy on the breasts, making the breast procedures involved in a mommy makeover useful for women with a diverse array of aesthetic needs.
The most obvious and common change that pregnancy brings is in the tummy area, so most women choose to have a tummy tuck and/or liposuction as part of their mommy makeover. The vast majority of mommy-makeover patients I see benefit from a tummy-tuck-plus-liposuction procedure. Excessive skin and fat pockets often remain after childbirth, but weight fluctuations that don't involve pregnancy at all can also make tummy-related procedures desirable. A tummy tuck pulls the skin tight and removes any excess tissue to create a flatter, more toned-looking midsection. Many of us, men included, are all-too aware of the fact that a person doesn't need to be pregnant to have issues with excess weight and skin in his or her midsection.
As you can see from some of my before and after photos, the procedures involved in a mommy makeover can be fantastic aesthetic solutions for mothers and non-mothers alike. I've only covered a few of the most common areas treated by mommy makeovers today, but plastic surgery can do amazing things all over the body. If you'd like to learn more about the many procedures I perform, contact me, Dr. James Namnoum to schedule a consultation. Don't forget to connect with me on Facebook, Twitter, and Instagram, and come back to the blog soon for more plastic surgery and health information.