In my more than 20 years as a board-certified plastic surgeon, I've performed countless procedures to help people address signs of facial aging. Some of the most popular procedures I perform are face lifts, and my patients often ask me how they can best maintain their results after surgery. The short answer to that question is to treat your skin with as much care and attention as everyone should, before or after facial surgery. Neglecting to properly care for your skin at any point in life can speed up the outward aging process, so these general guidelines can help maintain the results of your face lift and help your skin stay naturally youthful for longer in general: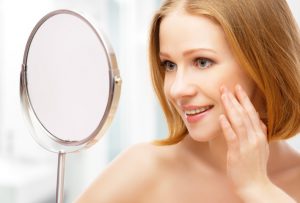 Eat healthy and stay hydrated.
Drinking plenty of water goes a long way toward keeping your skin supple and smooth. It helps maintain a healthy look in the short term, and it makes your skin healthier over time. Staying hydrated will help you maintain your face lift results by naturally moisturizing your skin and preserving its elasticity.
Nutrition is important to healing after surgery and promoting general skin health. Unstable atomic structures called "free radicals" (unavoidable fragments of oxygen molecules that permeate the air around us) have long been known to cause symptoms of aging in our cells. Foods that contain selenium, like salmon and whole-wheat pasta, are thought to help slow the effects of free radicals. Foods that contain antioxidants (many of which are colorful fruits and vegetables, like berries and spinach) are known to slow the damage that free radicals cause. Furthermore, foods that contain vitamin A, vitamin C, vitamin D, and protein can be extremely beneficial to your skin health.
Use sunscreen consistently.
As someone who has studied and treated skin for much of his life, I understand the importance of protecting the skin from the sun. One of the main reasons some people need face lifts in the first place is poor sun protection. Ultraviolet (UV) rays damage proteins in the skin that help preserve youthful elasticity and evenness, so neglecting to use sunscreen and limit sun exposure can accelerate the cosmetic aging process.
Many people only wear sunscreen during prolonged trips to the beach or pool, but it's important to protect your skin any time you're exposed to the sun. If you don't, the same processes that give a person the need for a face lift can effectively reverse the procedure's outcome. To avoid squandering the results of your face lift: don't spend too much time in the sun, and always, always wear sunscreen.
Caring for your skin is a multifaceted, lifelong commitment. In addition to eating beneficial foods and protecting yourself from the sun's damaging effects, there are many slight adjustments to your lifestyle that can promote skin and overall health. Once you've completely healed from your surgical procedure, nonsurgical cosmetic treatments like laser resurfacing and chemical peels can also help maintain and complement your face lift results. Moreover, moisturizers and skin-care products with antioxidants and retinoids pair nicely with healthful lifestyle habits to help preserve your skin's youthful suppleness. Finally, as I've recently covered, getting adequate sleep can also ward off signs of aging.
If you're interested in learning about what plastic surgery can do for you, contact me, Dr. James Namnoum, to schedule a full consultation. Remember to follow me on Facebook, Twitter, Instagram, and Google+ to get all the latest plastic surgery news and updates.