Everybody has things that they would like to change about their bodies, and even though diet plans and exercise programs can go a long way towards achieving those goals, more men and women are turning to body contouring procedures to achieve the results they desire.  Among the best known of these techniques is abdominoplasty, commonly known as the tummy tuck.  According to statistics published by the American Society of Plastic Surgeons (ASPS), the number of patients undergoing tummy tucks each year has more than doubled since 2000, and with more than 127,000 performed in the last year alone, abdominoplasty ranks among the top five most frequently performed cosmetic plastic surgery procedures in the United States today.  However, despite its ever increasing popularity, there are still many misconceptions surrounding this extremely effective form of plastic surgery.  Here are the facts behind some of the more common myths about tummy tucks.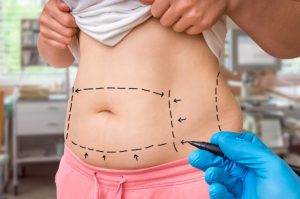 MYTH: A Tummy Tuck and Liposuction do essentially the same thing.
FALSE!  While both liposuction and tummy tucks can potentially help patients achieve a more slender midsection, they are actually designed to address very different concerns.  Liposuction removes excess fat deposits from the abdomen, but does nothing to address the skin that is left behind or the "pooch" formed by stretched muscle tissue.  In younger patients with good skin elasticity this may not be a problem, but in older patients excess skin can often be left behind to hang in loose, sagging folds.  Moreover, liposuction cannot correct the abdominal muscle separation that may result from pregnancy or long-term obesity.  A tummy tuck effectively "tailors" the skin, muscle, and connective tissue to achieve a result that is smooth, form-fitting, and specifically contoured to your unique physique.
MYTH: Tummy Tucks always leave an ugly and clearly visible scar.
FALSE!  While a tummy tuck procedure does require that an incision be made across the abdomen, from one hip to the other, that incision is always placed well below the panty line so that it can be easily concealed by underwear or a bathing suit.  Moreover, an experienced surgeon using advanced suture technology can usually make sure that the resulting scar is as thin as possible, and chemical peels or Sciton® laser skin resurfacing treatments can accelerate the scar maturation and color resolution, encouraging scars to become finer and lighter much more quickly.
MYTH: Tummy Tucks are a great way to lose weight.
FALSE!  A tummy tuck can help you achieve a more slender and athletic-looking midsection, but it is actually designed only to remove excess, sagging skin and to correct abdominal muscle separation that will not respond to diet or exercise.  Ideal candidates for an abdominoplasty are men and women who have already reached their target weight, but who have other concerns in the abdominal area that are the result of previous weight gain or pregnancy.  No plastic surgery procedure should ever be used as a substitute for a sensible diet and regular exercise program and further weight fluctuations after your surgery may adversely affect your final tummy tuck results.
Every patient is unique, but with the wide array of plastic surgery procedures available, there is sure to be one that can help you achieve the body you desire.  If you are interested in learning more about any of the cosmetic plastic surgery procedures that I regularly perform in my practice, please contact me, Dr. James Namnoum, to schedule a consultation today.  Don't forget to connect with me on social media to get all the latest plastic surgery news and updates.