Breast cancer affects one in eight women, and after undergoing a mastectomy for the treatment of breast cancer, more and more of these women are opting to have their breasts restored to normal shape, appearance, and size with breast reconstruction surgery.  According to statistics compiled by the American Society of Plastic Surgeons, more than 100,000 breast reconstruction procedures were performed in the United States in 2014, an increase of 30% since 2000, and the numbers continue to increase each year.  Because every woman's journey to recovery is unique, there are a number of different approaches to breast reconstruction that can be customized to suit each woman's individual needs.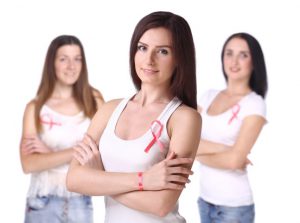 One of the most popular ways to reconstruct the breasts is through the use of silicone or saline breast implants, just like those that might be used in a breast augmentation procedure.  A patient who has good skin laxity, or enough preserved skin after mastectomy surgery, can undergo a "direct to implant" procedure, where a permanent implant is inserted into the breast directly after the mastectomy operation.  In some cases a breast lift, or mastopexy, and fat grafting techniques can even be combined with the placement of the implant into a single step in order to provide even more refined results.  Otherwise, a tissue expander may be used to gradually increase the size of the "pocket" over a period of about 2 to 3 months, until it is large enough for the expander to be replaced with a permanent breast implant of the desired size.  In both cases, shaped implants, like Allergan's 410 silicone gel implants which have a tear-drop shape to better mimic the natural contours of the breast, have contributed enormously to improved results.
Other patients may prefer a more natural approach to breast reconstruction that does not involve any artificial or foreign materials.  Autologous breast reconstruction techniques involve using a flap of the patient's own tissue containing skin, fat, blood vessels, and sometimes muscle to rebuild the breast.  The TRAM flap technique, which has long been considered the leading approach to tissue flap breast reconstruction, uses tissue taken from the transverse rectus abdominus myocutaneous, or TRAM, area of the lower abdomen.  While the removal of abdominal tissue can leave patients with a flatter looking stomach, the loss of muscle can cause some patients to experience weakness in the donor area, and the resulting scar may be higher and more visible than is ideally preferred.
Finally, it has been my experience that some of the best breast reconstruction results can often be achieved with hybrid procedures that combine the use of a latissimus dorsi flap with breast implants.  Ideal for patients needing removal of nipple areolar complex for oncologic reasons, this technique involves the movement of the latissimus dorsi muscle, along with the skin and fat that covers the muscle, from the back to the front of the chest, with the arteries and veins still attached.  Since most women do not have enough fatty tissue on their back to recreate a breast using only the LD flap, an implant or tissue expander is commonly used to provide additional volume and projection.  In many cases, the enhanced soft tissue coverage, when combined with fat transfer, can yield results superior to any other technique and create the most aesthetically beautiful breasts.
If you are interested in any of the cosmetic procedures that I perform, contact me, Dr. James Namnoum to schedule a consultation today or connect with me on Facebook, Twitter, and Google+ for more plastic surgery news and updates.