There are many different ways that cosmetic plastic surgery can help patients attain a more sculpted and shapely physique, but perhaps the most popular of today's body contouring trends is the mommy makeover.  Pregnancy and childbearing can cause drastic changes in a woman's body, but a mommy makeover is a special combination of plastic surgery procedures designed to help restore those bodies to their pre-pregnancy shapes.  Because every woman is unique, every mommy makeover procedure requires a slightly different approach, but here are answers to some of the more frequently asked questions about this incredibly popular body contouring technique.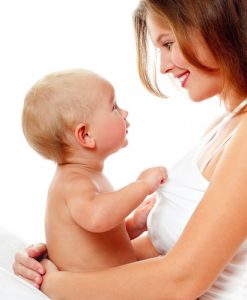 What procedures are usually included in a Mommy Makeover?
The areas of a woman's body that are usually most affected by pregnancy are the abdomen and breasts, so tummy tuck, or abdominoplasty, and aesthetic breast procedures are typically the cornerstones of a mommy makeover.  The tummy tuck addresses the sagging belly, or "pooch," that affects many women by retightening stretched abdominal muscles while simultaneously removing excess, sagging skin and redundant tissue.  Breast procedures, on the other hand, need to be customized to the individual patient, because pregnancy can affect each woman's breasts differently.  Many require a breast lift, while others may need a breast reduction or even a breast augmentation to give them the look they desire.  Additionally, most mommy makeovers also include targeted liposuction to smooth out the body's contours, and many women choose to include other procedures like thigh lifts or butt augmentation through fat transfer as well.  It all depends on the patient's personal preference and the recommendations of the plastic surgeon.
Why is it better to incorporate separate plastic surgery procedures into one Mommy Makeover?
Every surgical procedure requires downtime for healing and recovery, and if multiple procedures are performed separately, the time spent recovering from plastic surgery can really add up.  Individually, a  tummy tuck or breast lift could each require 7-10 days before you can comfortably return to even light work, much less get back to a regular exercise regimen or more intense physical labor.  By combining procedures, you can effectively reduce the overall amount of time that you will have to spend out of commission because those separate recovery periods all occur simultaneously.  Additionally, any time a patient goes under general anesthesia there are some risks, and so combining multiple procedures into one operative session can potentially reduce those risks as well.
How long do I have to wait after my pregnancy before I can undergo a Mommy Makeover?
It is never a good idea to undergo a plastic surgery procedure while the body is growing or changing.  This is why we usually encourage patients to reach and maintain a stable weight before undergoing body contouring procedures and why plastic surgery on rapidly-growing teenagers is difficult.  A woman's body, and particularly her breasts, can continue to undergo changes for several months after a pregnancy, so I usually recommend that patients be at their goal weight for at least six months and have stopped breast-feeding for six months before a mommy makeover.  I also suggest that a woman should wait until after they are finished having children before considering a mommy makeover, because the subsequent changes that her body would undergo, even years after the procedure, could potentially compromise her plastic surgery results.
To learn more about mommy makeovers, or about any of the plastic surgery procedures that I perform, please connect with me, Dr. James Namnoum, on Facebook, Twitter, and Google+ for all the latest plastic surgery news and updates.  If you are interested in discussing what plastic surgery procedures might be able to specifically do for you, please contact my office to schedule a consultation today.