There can be little doubt that attitudes towards cosmetic plastic surgery have changed a great deal in the past few decades.  Not only have they become more socially acceptable, but the popularity of such treatments among men, in particular, has skyrocketed.  Although lingering prejudices may have once made some men reluctant to have their concerns about their appearance addressed, those days are rapidly coming to an end.  Now men, in increasing numbers, are embracing the benefits that cosmetic plastic surgery procedures can offer for all areas of the body and face. According to the American Society of Plastic Surgeons, here are some of the most popular plastic surgery procedures for men today.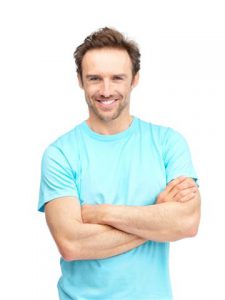 Non-Surgical Anti-Aging Treatments
In workplaces that seem to increasingly prioritize youth, many men are turning to facial anti-aging treatments in order to remain competitive.  Wrinkles on the brow or tiny crow's feet at the corners of the eyes can often be smoothed or even eliminated with Botox® treatments, and injectable facial fillers like Juvéderm®, Restylane® and Perlane® can potentially restore facial volume to give the face a noticeably smoother and more youthful appearance.
Forehead Lifts and Eyelid Surgery
One of the most common complaints that I hear from men who come into my office is that sagging skin from the forehead and eyebrow region can make the eyes look smaller and the entire face appear tired or even angry.  A blepharoplasty, or eyelid surgery, can remove the excess, sagging skin and puffy fat deposits that make eyes look old and tired while a forehead or brow lift can smooth wrinkles across the entire area.  Both are accomplished using tiny, easily concealed incisions and require minimal downtime.
Body Contouring for Gynecomastia
An estimated 15 million adult men in the United States suffer from gynecomastia, or a chronic swelling of the male breast tissue.  Although the condition is most common in adolescent boys, it can actually affect males of any age, from infants to the elderly.  Gynecomastia can be treated in a variety of ways, including liposuction and surgical removal of the excess breast tissue, and both of those approaches are among the most popular plastic surgery procedures sought out by men today.
Some men are still hesitant to undergo plastic surgery procedures because they fear they will be perceived as superficial, vain, or even feminine.  However, I have found that, when these procedures are performed by a skillful and experienced plastic surgeon, they are extremely discrete and can achieve very subtle changes without an overdone or obviously artificial look.  If you are interested in learning more about cosmetic plastic surgery procedures for the face and body, contact me, Dr. James Namnoum, to schedule a consultation today.  Also, don't forget to connect with me on Facebook, Twitter, and Google+ to get all the latest plastic surgery news and updates.