In the more than twenty years that I've been a board certified plastic surgeon in Atlanta, I've seen plastic surgery techniques and technology evolve in ways no one could have foreseen. And with the immense and growing popularity of fat transfer and other innovative procedures, we're getting better results than ever.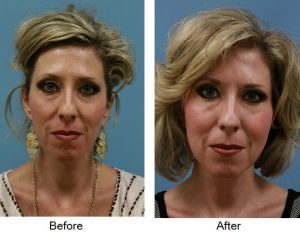 Older procedures we used to correct facial aging were effective but often fell short. Unlike what we have today, these procedures weren't designed with an understanding of what constitutes youth and age. By expanding our knowledge and taking advantage of the latest technology, we've brought plastic surgery a long way. The most important advancement we've had—one that has revolutionized the effectiveness of face lifts in more recent years—has been fat grafting to the face, along with other fat transfer techniques.
In the past, a face that had undergone older techniques could have a visibly surgical look, and people could sometimes tell when someone had had work done. Now we recognize that a young face has beautiful skin tone and natural fat. It's not pulled, stretched, or tightened. A young face is soft, and we associate softness with beauty. New technology for plastic and reconstructive surgery has dramatically changed our approach to face lifts, allowing us to achieve more natural results. Many of the changes that we associate with aging are due to a loss of fat in areas of the face that are essential to overall beauty, and we're increasingly using fat all over the face to reverse those changes. You can hear more about how fat grafting improves face-lift outcomes in this video interview that I conducted for the Plastic Surgery Channel:
We now use techniques that are more restorative. Fat grafting allows us to make patients look healthier and therefore truly younger. With old-fashioned face lifts, surgeons were merely mimicking the outer appearance of youth, like touching up the façade of a building. With this technique, we're recreating the conditions that make young people look young, effectively reshaping the underlying structure of your face for a stronger, healthier, and all-around more natural look.
If you're interested in learning more about fat grafting, or if you'd like to find out what plastic surgery can do for you, please contact me, Dr. James Namnoum, to schedule an appointment. Don't forget to connect with me on Facebook, Instagram, Twitter, and Google+ to get all the latest plastic surgery news and updates.